2021 was a historic year for Sonepar. The Group broke a new record after 2019 and recorded sales of 26.4 billion euros, with 18% autonomous growth. 
Sonepar is currently undergoing an ambitious and challenging transformation, serving customers with an omnichannel digital experience, promoting best-in-class sustainability, and ensuring our associates a diverse and inclusive working environment.   
​​​​2021 was the year of laying the foundations for our digital transformation. Sonepar launched Spark omnichannel platform in four countries and is continuing its global deployment in 2022. With Spark, Sonepar strives to become the first electrical equipment distributor in the world to offer all customers a fully digital and synchronized experience. 
In 2021 we also renewed Sonepar's brand identity and unveiled a new logo. The ellipses – the two, interlocking orbits that represent Sonepar's unique balance of global scale and local empowerment– have been simplified in order to work powerfully wherever they appear. Sonepar's new identity is modern, bold, and designed for an omnichannel experience 
Let's have a look at the official Group Key Figures in 2021: 
We led the market: 
26.4 billion euros in sales (30% online) – 31st December 2021 
Over 40 countries 
#1 in 11 countries 
1 million order lines per day 
With a powerful network: 
45,000 associates 
Over 100 brands 
2,800 branches 
150 distribution centers 
For a positive impact 
#1 in sales of energy efficient products 
Aligned with 1.5°C target 
230 Sustainability initiatives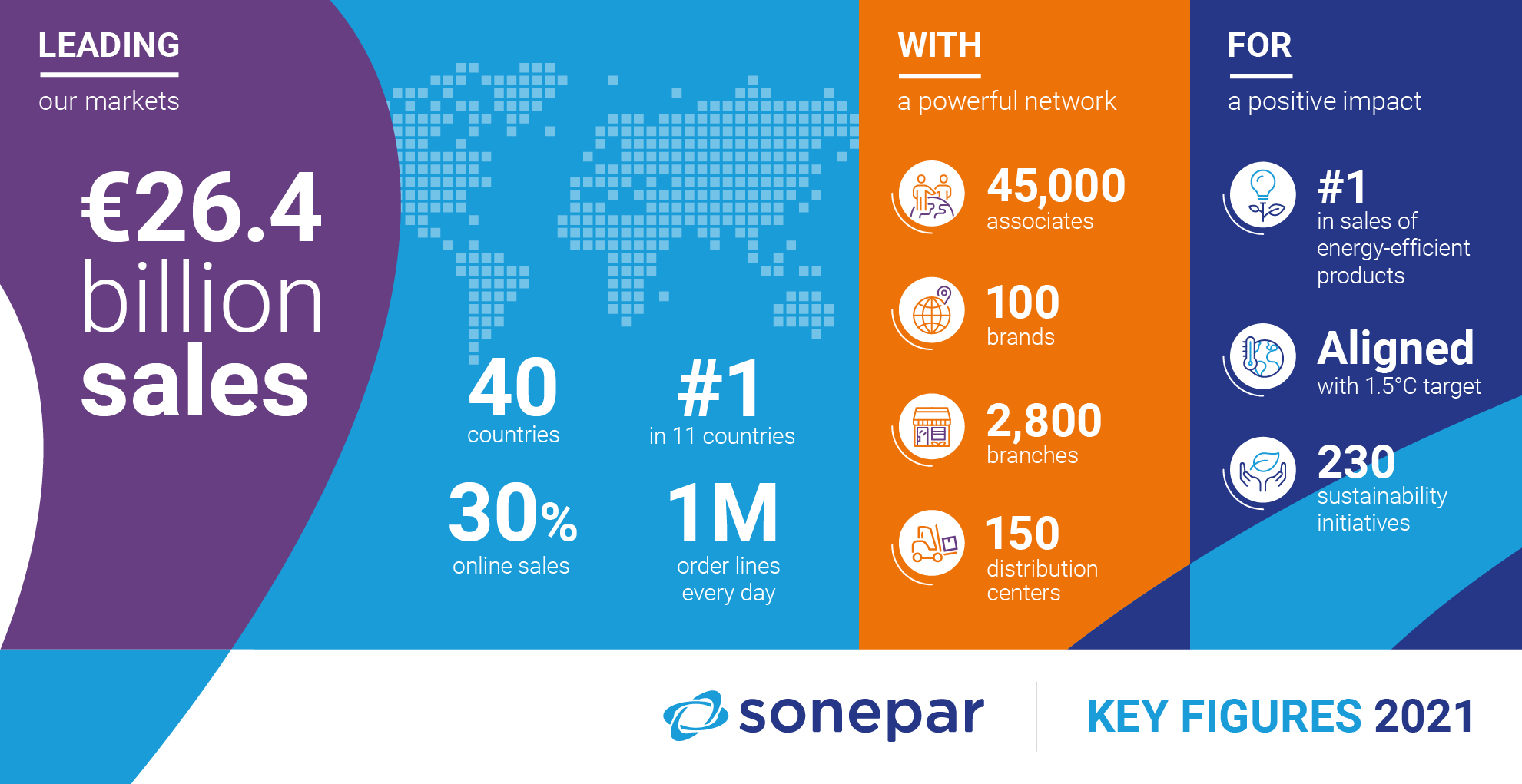 Philippe Delpech, Sonepar CEO commented, "Thanks to a unique combination of a long-term horizon, best-in-class leadership, an engaged workforce and demanding corporate governance, Sonepar has built an undisputed leadership position in B2B electrical product distribution, systems, and services. I would like to thank our 45,000 associates for their engagement and their professionalism all throughout the year. You all contributed to an incredible 2021 performance, and I am very confident that we will be able to grow together in 2022, which will be for sure, another turning point in Sonepar's history." 
About Sonepar 
Sonepar is an independent family-owned company with global market leadership in B-to-B distribution of electrical products, solutions and related services. Through a dense network of 100 brands spanning 40 countries, the Group has an ambitious transformation agenda to become the first global B-to-B electrical distributor to provide a fully digitalized and synchronized omnichannel experience to all customers. Drawing on the skill and passion of its 45,000 associates, Sonepar had sales of €26.4 billion in 2021. Sonepar makes its customers' lives easier, over the counter, visiting customers, by phone or online, – however we're needed.