Leading the Energy Transition
Today, Sonepar is the leading distributor of energy-efficient products, pioneering the energy transition and making sustainability a priority.
Electricity is the clean energy of the future, and we are at the heart of its ecosystem.
Championing a Cleaner Tomorrow
Sonepar is uniquely positioned at the heart of the electrical ecosystem. As the world leader in the B2B distribution of electrical products, solutions and services, we champion a more responsible future, nurture best environmental practices, and encourage the transition to low waste, clean energy solutions.
We're Already Making a Difference 
At Sonepar, we control our own destiny. The actions we take today have an impact on our shared future, and together with our family of shareholders, we stand up and play our part decisively and with confidence. Drawing on the skill and passion of our 44,000 associates, we are accelerating the energy transition, away from a system based on wasteful consumption, and towards a circular system centered around clean and infinitely available electrical energy.
With the scale of our business, decentralized structure, and local presence, we aim to create a ripple effect – where the actions we take multiplies out across hundreds of countries, thousands of businesses, and countless projects.
Our Vision 
As the leader in our industry, we want to be an example to others.
We have accelerated our own transition to efficient generation and use of electrical energy across our business and are working with our suppliers to nurture and champion the innovation of sustainable solutions in the market.
Demonstrating Our Commitment

To demonstrate our own commitment, we're investing more than €2bn in modernizing our supply chain, and a further €1bn in our global digital platform, in order to deliver perfect orders to our customers, all while reducing our CO2 emissions and waste to limit global warming.
We are proud to have our greenhouse gas emission targets validated by the Science Based Targets initiative (SBTi), an organization that helps businesses set ambitious targets in line with the latest climate science.
As part of our sustainability strategy, by 2030, Sonepar commits to:
Reduce the emissions from our buildings and fleet by 46.2%, in line with the SBTi 1.5°C trajectory, adopted by the Paris Agreement (COP 21)
Reduce the greenhouse gas emissions from the purchase, use, end of life, and transportation of products from suppliers to Sonepar customers by 13.5%
Green Offer
We have launched the pilot phase of our Green Offer to allow our customers – installers, industry and infrastructures – to purchase products based on a sustainability rating.
This development elevates the most sustainable and energy-efficient solutions, helping customers make sustainable choices, master their carbon footprint, and pass on energy savings to the end-user.
What is Sonepar's Green Offer? Watch below!
Are you working with Sonepar as a supplier? Wish to join our Green Offer? Connect with us to champion the innovation of sustainable solutions: HQ_SM_Sustainability@sonepar.com.
Customer Impact Tracker 
Our Customer Impact Tracker enables key accounts to monitor their CO2 on purchases helping them better measure and reduce their emissions across product families.
Circularity 
We are accelerating the energy transition towards a circular system centered around clean and infinitely available electrical energy.
We aim to transform our entire supply chain into a circularity hub. We want to ensure that our suppliers and partners can propose environmental declarations and eco-design their solutions.
Also, we intend to lead by example by proposing circularity as a service to our customers. It's the responsibility of all of us to work together, in order to reduce our waste footprint.
Sonepar Energy Transition Academy 
In 2020, we launched the Sonepar Energy Transition Academy, a compulsory training programme designed to raise awareness about climate change and promote best practices among our 44,000 associates.
In 2023, we released the second training module about circularity and waste management.
Read More
Local Initiatives 
We're engaged in over 230 sustainability initiatives worldwide. From the deployment of solar power and the conversion of our fleet cars and plant machinery to electric, to energy saving systems and plastic free packaging and waste management programmes.
Open our interactive sustainability map to discover where, and how, we're making a difference.
And we're already having an impact
44,000
Associates trained through our Energy Transition Academy's online modules, available to the whole Group.
230
Country initiatives accelerating the UN Sustainable Development Goals.
ISO 14064
Group Carbon footprint calculation according to GHG protocol and ISO 14064 standard.
#1
World leader in sales of energy efficient products and solutions.
€500m
Leader in renewables with sales of more than €500m every year.
2030 climate targets
Validated by the SBTi: Reduce absolute scope 1 and 2 GHG emissions by 46.2% and absolute scope 3 GHG emissions by 13.5%.
"We see our CSR approach as a way to drive performance, boost our economic and social efficiency, and become more competitive and profitable in the long term. Working alongside our stakeholders and associates, we are moving towards our goal of sustainable growth that respects our ecosystem"
Philippe Delpech, Sonepar CEO
Corporate Social Responsibility
Read our CSR report based on the Sonepar Group's long-term strategy.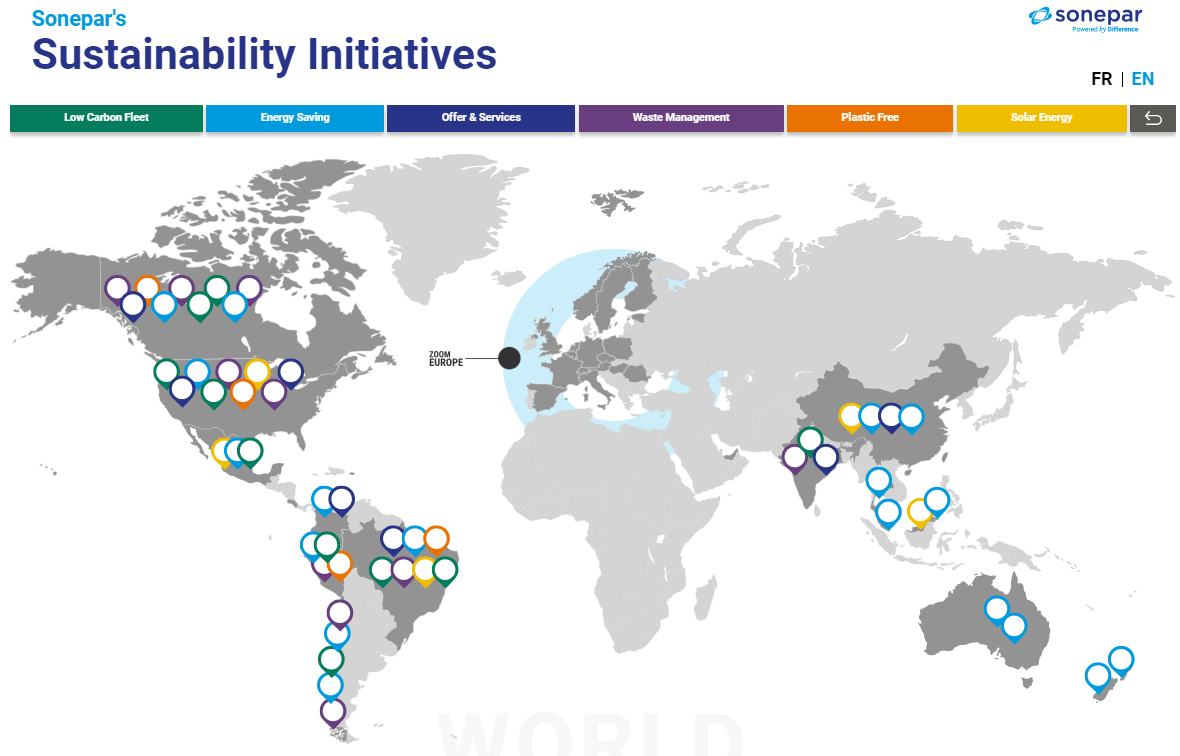 Commitments
Sonepar is committed to very high ethical, social, and environmental standards.