Unlock The Power Of Simplicity
We strive to create and sustain a relationship that results in genuine partnership with you. There are many other distributors in the market, so why buy with us?  As your partner, we offer you the benefit of our deep expertise. We also take care of all logistics, so that you can focus on your most value-adding activities. 
Saving you time upstream of your project
We know that both you and your project are unique. That's why we tailor solutions to meet your exact needs on a case-by-case basis. We draw on a broad array of varied services to ensure you get the best possible result. You can count on the expertise of our teams and the dedication of our branches to bring your project to life! 
In our showrooms, we highlight the very latest innovations on the market – from decorative and architectural lighting, to home automation, to energy efficiency. We help you deliver your projects by guiding you through the design phase and supporting you in making the best choices for your needs. 
Sonepar Opens Competence Centers Throughout Italy
Sonepar has opened a series of Competence Centers throughout Italy, in the Padova, Milan, Bergamo, Prato, Roma and Casoria regions.
Technische Unie Opens Their Smart Industry Inspiration Center
Smart Industry is one of the most important pillars for the future of industrial companies. In Eindhoven, Technische Unie has opened a 450 square meter Inspiration Center centered around this subject.
Saving you time when ordering products and tools
You can access our services anywhere, anytime – at our branches, online, on mobile devices, and at our showrooms. We strive to continually offer you the best possible experience, both digitally and in person.
Our ambition is to become the first global B2B electrical distributor in the world to offer a fully digital and synchronized omnichannel experience to all our customers. Today, 30% of our orders are placed online, with the figure reaching 70% in countries like Germany, the Netherlands, and Switzerland.
You can connect with us any way that's most convenient for you – whether it's over the counter, on the phone, a face-to-face meeting with a sales associate, email, online, or via a smartphone app.
At Sonepar, we respect and nurture local cultures and differences. The work we do globally is built on the successes of locally implemented projects. Achieving the perfect balance between local and global is part of Sonepar's DNA.
Product configurator
Routeco in the UK offers an innovative website feature – the Rockwell Automation Product Configurator – which enables you to find the best product for your project. You can order what you need fully assembled and ready to go! 
Saving you time by making the products you need instantly available
Depending on the country, up to 100,000 products can be delivered from our central warehouses to your required location in less than 24 hours. We are constantly investing in the modernization, improvement, and expansion of our central distribution centers (CDCs). 
In Switzerland
Sonepar opened a new CDC in Switzerland – at the heart of the country's strategic logistics network. It features a roof with a full photovoltaics system, which can supply up to 80% of the warehouse's needs in energy.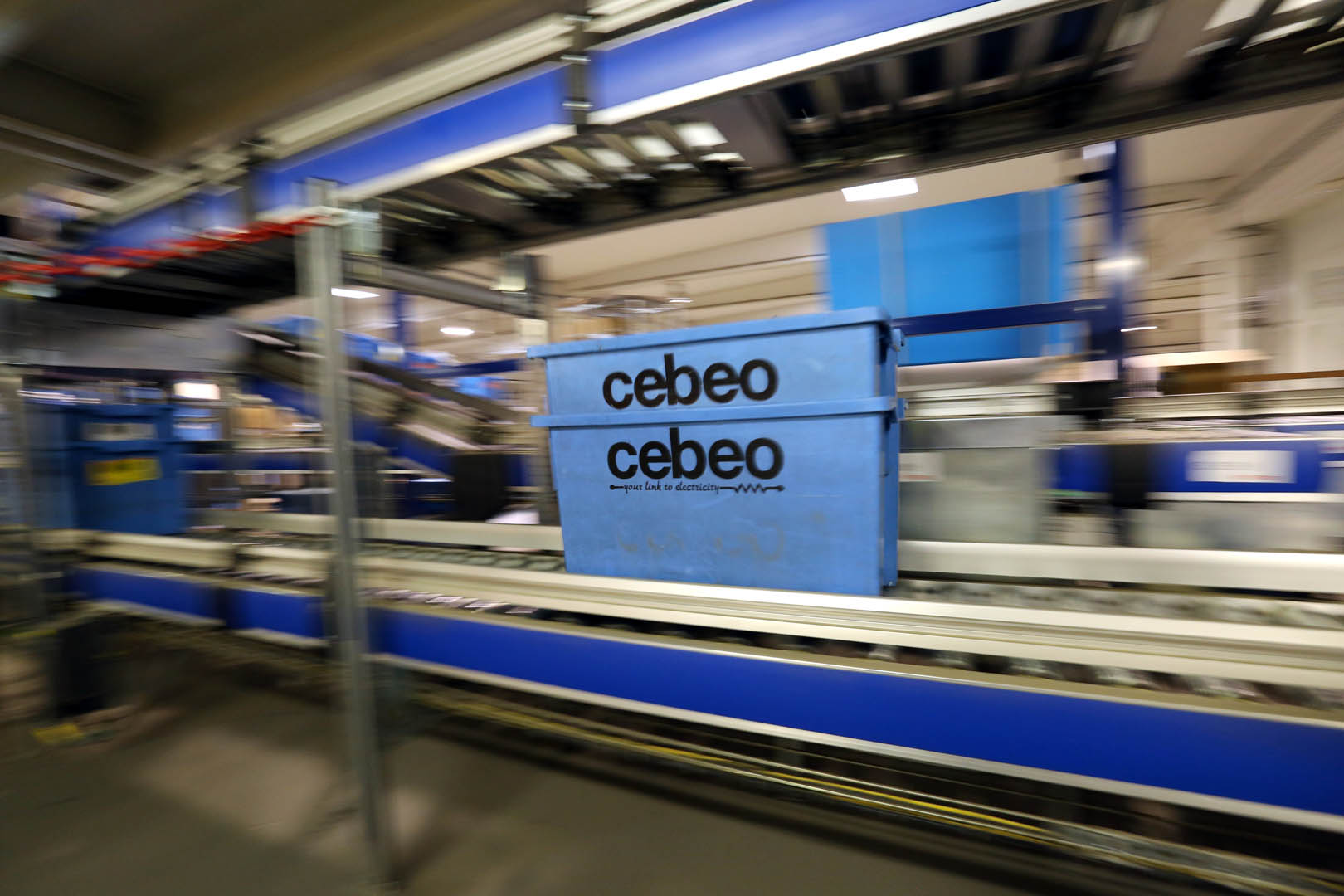 In Belgium
Cebeo has built a new logistics center in Belgium. With a 12-hectare footprint, the center is located in the industrial zone of Tournai. The new building will be BREEAM certified. 
Saving you time when collecting your order  
Depending on the country you are, you can choose from a range of delivery options for your orders, which are shipped from our network of distribution centers and branches: 
Custom delivery solutions straight to your home, storage unit, work site, or via click-and-collect that's coordinated with your project schedules.  

Kitting services to take delivery of products that we've packaged, enabling you to assemble them in an orderly, efficient way. 
Sesco, a Sonepar company in Canada, offers its customers a mobile solution that makes their day-to-day activities easier. Search for products on the go, checkout and get them with next-day delivery.
Saving you time in coordinating your major projects
Depending on the size of your project, we can act as an electrical equipment consortium leader, to coordinate and ensure a continuous product supply from multiple suppliers. We can also set up on-site warehouses and other bespoke solutions.
On-Site Warehouse
The Paris Philarmonic site includes a 2,400-seat symphonic concert hall, a museum, rehearsal rooms, restaurants, and bars – all housed in a spectacular metal-clad building. We provided logistics, expertise, and the setting up of dedicated stocks on site, making a continuous flow of products readily available. 
A Brilliant Partnership
The braking zone before the Mulsanne bend at the Le Mans 24 Hours race circuit had not been properly lit for years. We carried out a lighting study, working within a number of specific constraints, for example, the need to use only indirect lighting. Our long-standing partnership with Signify ensured the project's smooth execution and success. 
Maintenance, Repair and Operations (MRO)
We provide digital solutions that enable the securing, monitoring, and delivery of any stock. You can instantly check products as well as quantities available and locations. For key items, like personal protective equipment, this helps ensure you never run short as well as optimizing your costs.
Automation and Control 
We can monitor and repair your automation equipment at any point in its operation. Wherever possible, we repair on site. We can also supply your spare parts and in some cases we can even lend you a replacement machine while working on repairs. This approach aims to minimize outages and help ensure you have no lost production time. 
We also offer preventive and predictive maintenance, where we monitor every machine to assess the health of your entire production line. This can detect unusual behaviors to further minimize downtime. 
2018 saw a flood in an industrial zone near Sao Paolo, Brazil. As a result, two of Sonepar's customers' production lines found themselves under water. Dimensional, a Sonepar company, acted quickly, installing an emergency site at a nearby parking lot. This enabled the customers to bring their plant items one by one from the production lines – to test, analyze, repair or replace faulty components – before reinstalling the equipment. This rapid action resulted in production being restarted much earlier than expected. 
Saving you Administration Time
We're always looking for ways to reduce our carbon footprint while making your day-to-day operations easier. We do this by leveraging successful local initiatives, adapting, and rolling them out on a global scale. 
Many countries across Sonepar network have switched to digital invoicing. This initiative is being rolled out globally. As well as reducing waste from paper invoices, digital invoicing also saves you time. You can quickly and easily upload electronic invoices to your own accounting system. 
Supply Chain
Sonepar is committed to offering our customers the broadest assortment of products with the highest levels of agility and customization for delivering the perfect order.
Markets
Our customers operate in three major end markets: industry, building and energy.
Projects
We've been involved in some major projects, from renovations of national monuments to the construction of new hospitals, schools.