Delivering The Perfect Order
Sonepar is committed to offering our customers the broadest assortment of products with the highest levels of agility and customization for delivering the perfect order; what you want -- when, where, and how you want it – with ease.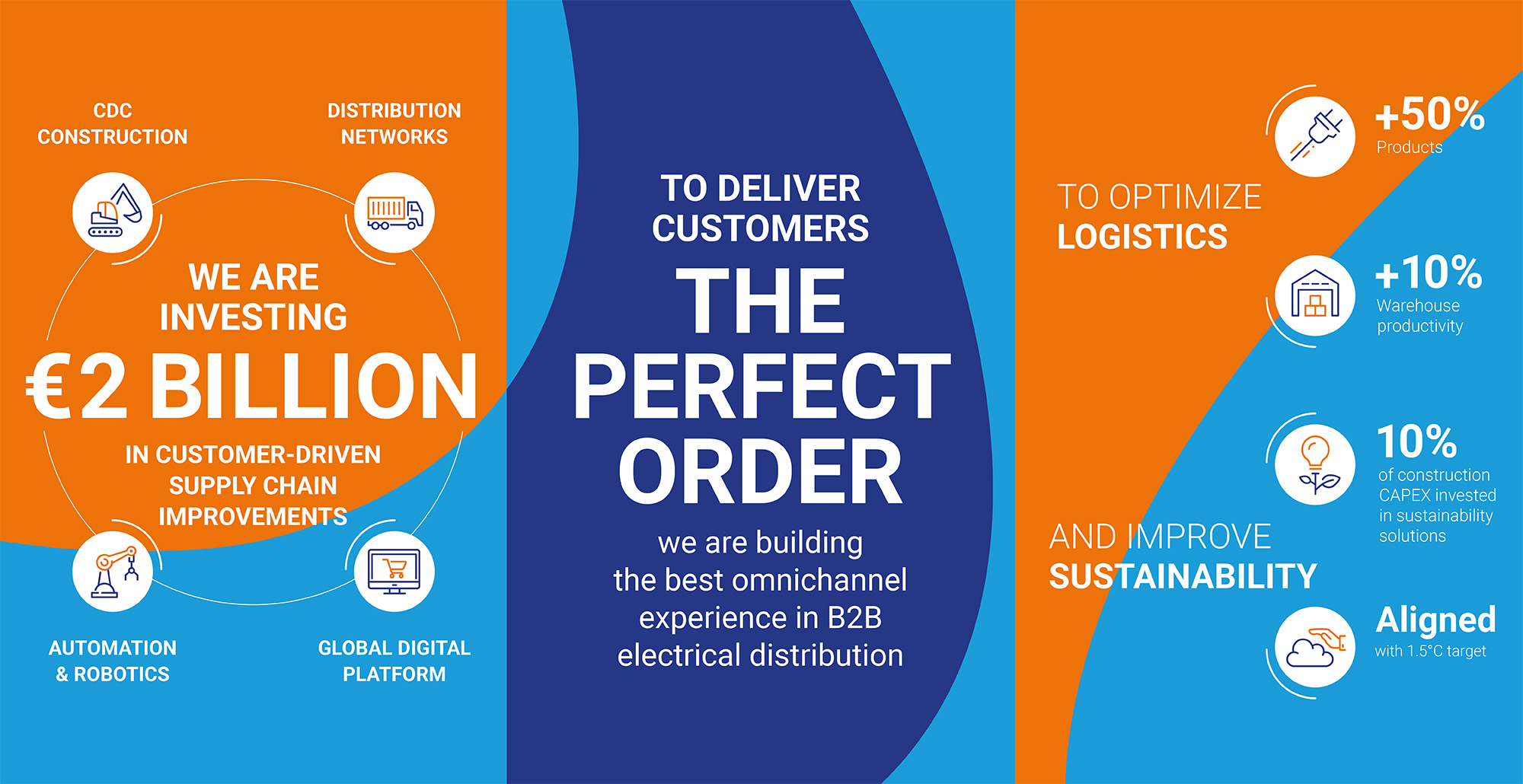 Investing in the Future 
Through it's modern, flexible supply chain, Sonepar is committed to delivering the best omnichannel experience with our customer satisfaction driven investments in high tech, synchronized, and sustainable operations. 
Sonepar is investing more than €2bn in modernizing its Supply Chain and a further €1bn in our global digital platform in order to deliver perfect orders to our customers all whilst reducing our CO2 emissions and waste to limit global warming to 1.5°C (SBTi).
By 2025, Sonepar will operate 200 warehouses and 28 new or improved Central Distribution Centers (CDCs).
Our supply chain won't just be more agile, it'll be greener too – as we move to more sustainable power, packaging, and transport.
Broadest Assortment of Available Products
Depending on the country, we offer our customers up to 100,000 products. Any of these can be delivered from our central warehouses or branches to your required location.
We're also investing heavily in the technologies, improvements, and efficiencies of our CDCs in order to get our products delivered to you as quickly and as ecologically as possible.
In 2022, Cooper Electric unveiled its new, automated central distribution center (CDC) in New Jersey, USA.
Fast, Flexible Logistics
From custom delivery timing and locations to click and collect, our logistic teams aim to get you what you want, when and where you need it.
We can also arrange for secured containers, kitting, and other specific delivery needs – our teams will help finding the best solutions for you.
Reducing our CO2 Emissions and Environmental Impact  
Sonepar's investments in technology and data not only help us to plan, prepare, and deliver these perfect orders, they also provide us with insights on how to create a safer and better work environment, eliminate waste, and reduce our CO2 and environmental impact -- from suppliers to customer delivery.
For all new construction, Sonepar is committing 10% of its investment into sustainable solutions.
Whether it's LEDs, solar photovoltaics, reusable packaging, or dedicated electric transport, Sonepar is committed to sustainable operations. 
In 2020, Sonepar opened a new central distribution center and the country's first wooden high-bay in Switzerland – at the heart of the country's strategic logistics network. It also features a roof with full photovoltaics coverage, which can supply up to 80% of the warehouse's energy needs. This project has pushed the boundaries of our commitment to sustainable development and performance.
Products and solutions
Our offer covers a wide range of specialties in the B2B distribution of cutting-edge electrical products and solutions.
Customers
We make life easier for our customers by anticipating and responding swiftly to their needs.
Services
As your partner, we offer you the benefit of our deep expertise so that you can focus on your projects.