Lawrence & Hanson is a Sonepar company. Since 1886, we've been supplying quality products to customers across multiple market sectors, including residential, commercial, and industrial.
"We know electrical" and strive to be the wholesaler of choice for knowledge, customer service, digital business solutions, consistent pricing, and stock availability.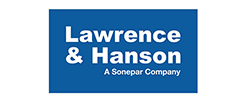 Lawrence & Hanson
Lawrence & Hanson is Australia's most recognized electrical wholesaler, with a strong heritage and over 170 branches.
Visit website