We aim to promote our suppliers' best-in-class, most sustainable innovations, to bring further transparency to our product offer and help reduce our impact on the planet.
Sonepar's Green Offer enables our customers to make sustainable choices to master their carbon footprint, thanks to our sustainability rating.
Close collaboration with our suppliers is key, as they provide us with verified environmental data about their products, thanks to Life Cycle Assessments which allows us to compare and rate each product.
Today, we're focusing on Siemens, a technology leader with a portfolio designed to drive the digital and sustainable transformation of industry, infrastructure, transportation, and healthcare. For almost 175 years now, Siemens has been driven by the aspiration to improve the lives of people worldwide.
Every day, Siemens creates impact by providing innovative solutions tackling challenges in environmental protection, decarbonization, health and safety. Sustainability is embedded in all business activities, investment decision-making and governance. This commitment is reflected in the DEGREE framework, a 360-degree view of Siemens ESG (Environment, Social, Government) priorities.To communicate transparently on the impact of its products, such as CO2, Siemens uses Life Cycle Assessment (LCA) studies based on internationally standardized approaches since the 1990s. The resulting data is communicated in Environmental Product Declarations (EPD).
Transparency on environmental impact is the foundation; but it is only the first step. Siemens makes rigorous efforts to minimize the negative environmental impact of each product. This approach known as Robust Eco Design (RED), covers the entire product lifecycle starting with the engineering stage. The RED approach provides the foundation for integrating eco-design systematically into the product development and allows Siemens to derive specifications that are advantageous from an environmental point of view while meeting own sustainability goals as well as those of customers, partners, and suppliers.
If you are interested to learn more on Siemens RED approach, please download the eco-design Whitepaper on www.siemens.com/environment.
One out of many examples of Siemens products which have been optimized according to environmental criteria is given by the molded case circuit breakers (MCCBs) of the SENTRON 3VA series. Its integrated communication and measurement function makes energy flow transparent and identifies saving potentials. Condition monitoring based on its health indicator ensures that you never have to exchange a breaker before it is necessary. Furthermore, warnings messages and alerts allow the operator to act before a failure happens, enhancing the availability of the application.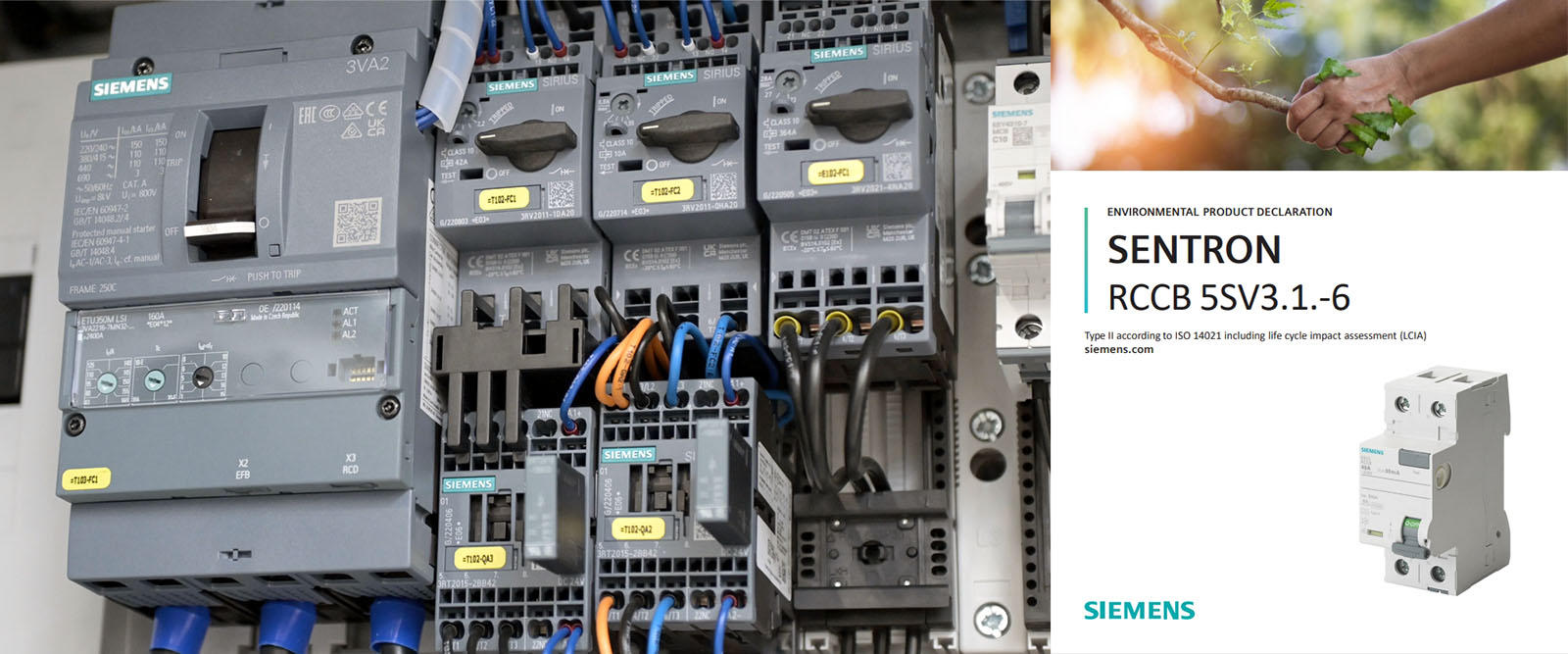 Learn more about how to optimize power consumption with sustainable products here.
Like many other sustainable products of Siemens' portfolio, the SENTRON 3VA series is available to our customers on Sonepar's e-shop.
Sonepar and Siemens are working together to champion the innovation of sustainable solutions on the market.